About Rowy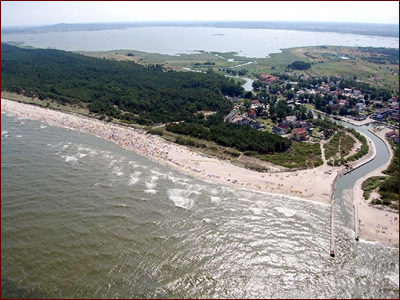 City holiday resort Ditches monthly "On" refers to as "Polish Riviera". Ditches gained its popularity only recently. Therefore, yet still cozy village devoid of defects in large, well-known resorts.
Is it true you judge it by yourself! The best place ...
In the town ditches you can use the many attractions for children and adults:
- Restaurants and Bars
- Hire bikes and go-kart
- Playgrounds
- Mail
- ATM
- And much more ...
More about resort
Ditching the Baltic port (54 ° 40 'N 17 ° 03' E) located on the Spit Gardnieńskiej between the sea and lake Gardno, on the western border of National Park. The village is on the left bank of the river Łupawa, which flows through Gardno, here's an outlet to the sea, acting at the same time the entrance to the port of ditches.
In ancient times had to be here Gardny Great seaport lying on the other side of the lake, but did not confirm this historical messages.
Add charm to the area's cliffs to the west of Trencher and dunes to the east - the main attraction National Park.
Trenches lie over the open sea, the pine forests. This creates a unique microclimate and excellent conditions for recreation and tourism. Direct vicinity of the Slowinski National Park more attractive location Trencher. But most important is that the wide, sandy beach is really close - a few minutes walk from anywhere in Rowy.
Ditches can now boast of dozens of holiday resorts, boarding houses, a few huts, camping sites and campsites. Every year comes a cottage. It is estimated that in the summer season is in Rowy thousands of holidaymakers.
Ditches count around 360 permanent residents engaged in fishing mainly. There's no denying that it is equally important, perhaps most important, source of income is tourism. Remember this when you will be there. Even when exploring specific mentality of these people.
Source: rowy.pl